Rushey Mead students have a wealth of clubs and extra-curricular opportunities to choose from. These activities are not only fun but also a great way to develop friendships with others. The large variety of clubs at Rushey Mead develops many skills in our students, including leadership, team building, organisation and problem solving, to name a few.
The PE faculty offers students the chance to compete as part of a team or to attend participation clubs. No matter the prior standard or experience of the students, there is something for everyone. Sports and activities on offer include basketball, football, netball, cricket, rugby, tennis, trampolining, badminton and fitness development.
There are similarly many opportunities to perform. Dance in many forms, Drama (including an annual academy production) and Music (including an annual concert) are all enjoyed during lunchtimes and after school by many students. Students can learn to play keyboards, have singing or drumming lessons or join a band to put their performances together.
Students from all years can all take part in a range of leadership activities that are established across school. Some of the activities are organised within faculties and take place in school, for example, 'Science Assistant'. Some of the activities are extracurricular activities– for example, 'Journey Through Fiction'.
The aim of the Leadership Log and the activities on it is to develop a broad range of skills and qualities outside of academic achievement, and to provide students with material for their CV that they could discuss at a college interview.
Students are asked to also record how they have demonstrated and developed qualities once they have completed stage 4 as a self-reflection activity,
All extra curricular activities contribute to our Rushey 3 Passport.
Rushey 3 Passport
We encourage all students to develop themselves through our extra-curricular provision, so that they leave Rushey Mead Academy as well-rounded citizens who are equipped with the skills they need for life. The Rushey 3 passport ensures that all students will be rewarded for their non-academic achievements so that, as a school, we celebrate their successes beyond results.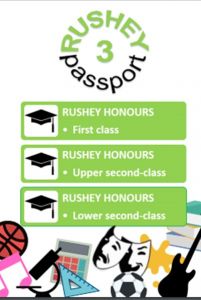 Each time a student is involved in anything outside of the classroom, they will record this on their passport and will accumulate points towards a Rushey Graduation Ceremony. The opportunities range from: helping out at school evening events, being on the student council, attending a club each week, helping to organise a charity event, taking part in a school assembly or school production and many more, all of which are listed in the passport.
The more things students do in school and outside of lessons, the more points the will accumulate. The higher the number of points, the higher the level of graduation. This gives all of our students the chance to graduate with Rushey First Class Honours in our graduation ceremony at the end of the year.